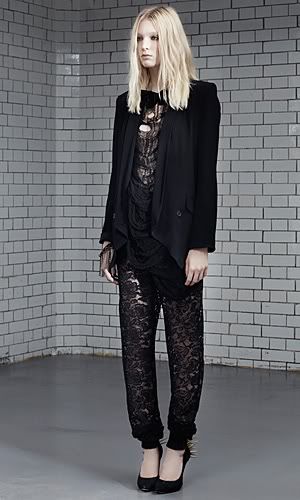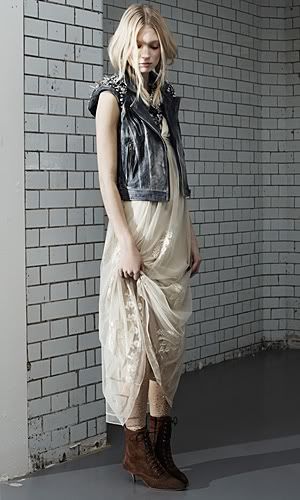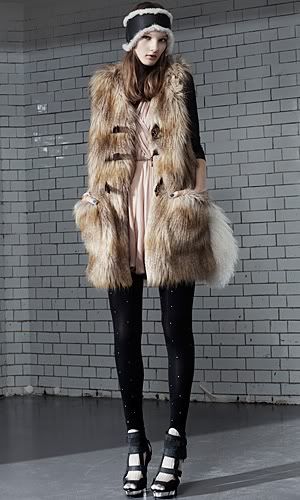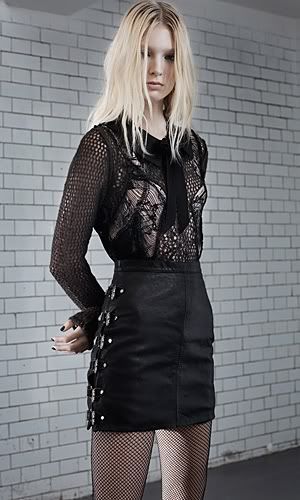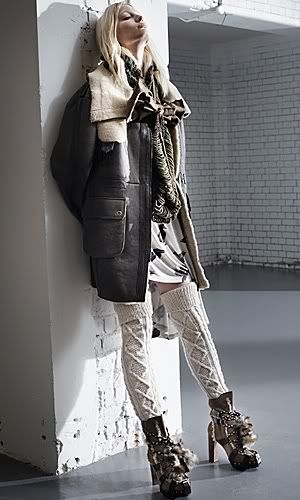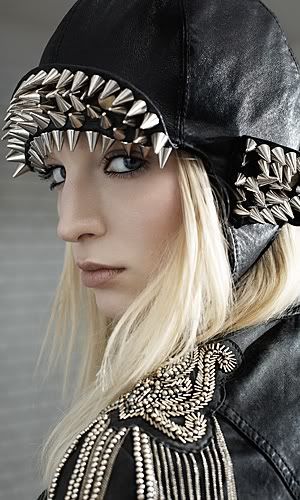 Got off the boat in England yesterday to be welcomed by cloudy skies, a nippy wind blowing and even a bit of rain. To think that not more than a day or two ago I was in a bikini and mini-shorts. It feels more like autumn here than summer although people are assuring me that it was hot up until I landed back in the country. Such cold comfort (ha ha) as I grumpily reacquaint my now Spanish acclimatised body with my wool cardigan.
Thankfully Topshop has come to the rescue with the release of their Autumn Winter 2010 look book so that I can actually get excited about being back in cold rainy London for the new season! There is so much in this collection I am salivating over. Black features heavily with a continuation of the dark, fierce gothic and biker trends of past winters that I have loved. There continues to be a mixing up of contrasting fabrics and textures such as lace, feathers, fur and leather. I love the leather pieces such as the shorts, the buckle-up pencil skirt, the skater skirt, the cropped biker jackets and biker gilet.
There is even the return of one of my favourite trends - studded embellishment. This time however the studs have morphed into shark tooth spikes adorning gloves, scarves, biker jackets, biker gilets and shoes. Tell me - is it unreasonable to be lusting after spiked leather driving cap?
There are even some sequins thrown in for good measure with a sequinned waistcoat and sequinned mini-shorts and a range of gorgeous sheer embellished fabrics worked into amazing dresses. Despite all the indications in the press that they are on their way out leggings in many guises still feature. There is a definite nineties grunge feel to some of the outfits in which doctor marten style shoes are worn with floaty dresses and punky shredded knitwear. Then there are capes galore - in shearling, leather trimmed tartan, camel wool and in military buttoned navy. And to top it off a Burberry style avaitor jacket in shearling so you can be fashionable and warm at the same time.
Who said fierce shoes and statement heels were over? Check out those ankle boots with harnesses and shearling tops or shoes with ferocious spikes on the heel. It also looks like the thigh high boot will get another outing this winter and I'm betting Topshop will re-release the Britany series of boots that sold out last season.
Roll on winter I say. Now I just need to win the lottery!