The additions to my T-shirt wardrobe keep on coming. I couldn't resist this off-white
Moises de la Renta for Mango
limited edition T-shirt with an organza trim and bow detail at the neckline. For the launch event these T-shirts were teamed with long black and nude ballet skirts with extravagant bows at the waist.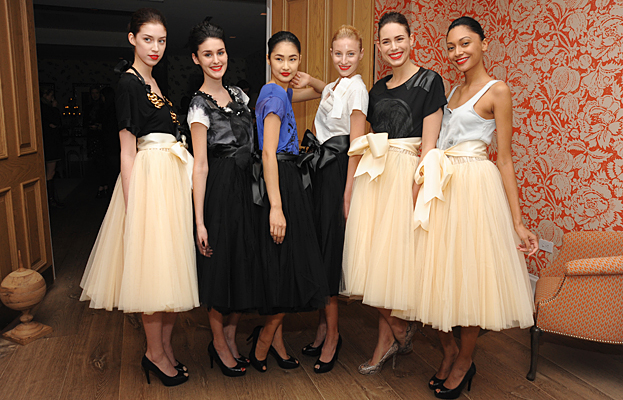 I have been looking for the right kind of tee to go with a very similar ballet skirt by
Wheels and Doll Baby
I got last year in Australia. It is made of fine black net with a nude coloured rose embroidered on the front. The nude version of the skirt with a black rose is pictured below.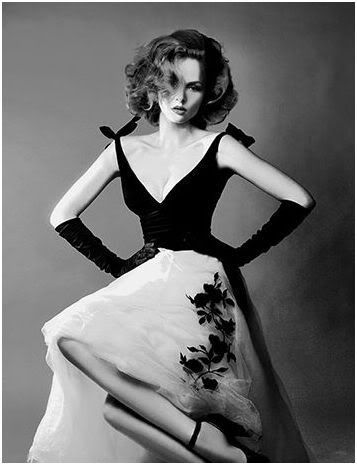 When I bought it I was advised that Aussie fashionistas wore theirs with a jersey vest or singlet to tone it down for the day in the style of Carrie in Sex In The City. Although I liked the idea of something in jersey on top to break up the formality of the tulle it still seemed to me a bit of a travesty to take such a beautiful skirt down that many notches.
Up until now I have not really found a top to make a more informal outing of this skirt a possibility. I knew it needed to be a t-shirt but the right sort has eluded me until now. Moises de la Renta has hit the spot. The structured neckline and bow adds enough volume and glamour to a jersy tee to allow it to hold its own against the extravagance of the skirt but it is still relaxed enough to stop the outfit feeling like full on evening wear.